AutoX and FCA Partner to Roll Out the first "Hardware Ready" RoboTaxi for Asia
The AutoX Team @ Jan 6, 2020
At CES 2020 in Las Vegas, AutoX announced a partnership with Fiat Chrysler (FCA) to start rolling out the first "Hardware Ready" RoboTaxi for the Asia market. The vehicle is the first RoboTaxi in Asia that has the hardware quality and safety design to go beyond testing with humans as backup drivers, capable of supporting a completely driverless taxi service without the need of a safety driver in Asia's driving conditions.
AutoX is exhibiting Pacifica from Fiat Chrysler (FCA), which is the same vehicle platform used for Waymo's driverless deployment of RoboTaxis. integrated an array of advanced sensors in a sleek rooftop built seamlessly onto the vehicle. The hybrid vehicle now has 360 degrees of solid state lidar sensors, along with numerous high-definition cameras, blind spot lidar sensors and radar sensors housed in a package that flows with the design of Chrysler Pacifica.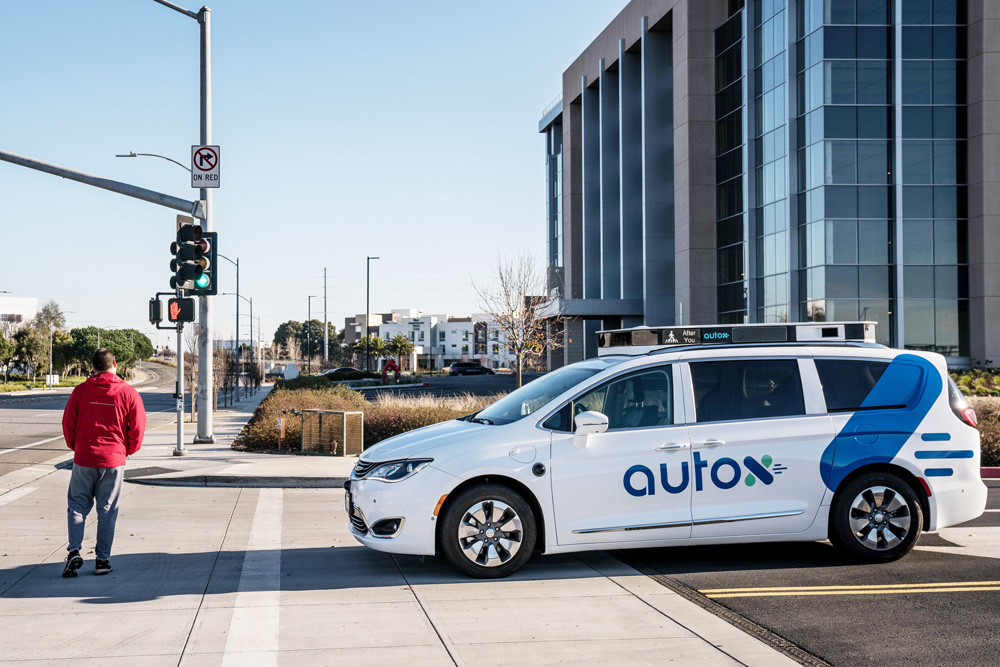 "Achieving completely driverless operation needs a very reliable vehicle platform with full redundancy of the vehicle's drive-by-wire system." said AutoX CEO Dr. Jianxiong Xiao, "This level of redundancy is still new and rare in the auto industry. The Chrysler Pacifica platform has proven trustworthy for driverless deployment."
The hybrid minivan is equipped with AutoX's Level-4 vehicle control unit, called XCU. XCU powers and integrates the entire self-driving stacks and sensors with the vehicle, including automotive-grade cameras, radars, and lidars. The special design of XCU is that it is made for highly complex scenarios in urban driving environment, meaning faster processing speed and higher computation capability.
Driving in urban environments requires smarter AI and a more powerful vehicle control unit. "There are a lot more cars, pedestrians, bikers, scooters, and moving objects on the street, many of which are not following the traffic rules. Due to the fast development speeds in modern cities, construction and reconstruction can happen overnight. The streets can look completely different in the morning, afternoon, and at night. This requires our system to process faster and extremely accurate to recognize and track each object to guarantee safety."
"Partnering with a global car maker like FCA aligns with AutoX's mission to expand its L4 self-driving fleet around the world. AutoX is known for its capability of moving people and things, in and around dense metropolitan areas. The Chrysler Pacifica's size and capabilities make it an ideal platform for such use cases. FCA comes with its hardware engineering expertise, while AutoX enables the platform to be self-driving with its L4 autonomous driving technology."
Earlier in 2019, the company has been offering public rides in downtown Shenzhen, going through crowded and sometimes chaotic traffic. Shenzhen is one of the major tech centers in the world, with the highest population density among all cities in the country. In September 2019, the City of Shanghai officially partnered with AutoX to launch 100 RoboTaxis, aiming to build the largest RoboTaxi pilot zone in Asia. AutoX is now the only company that has been granted autonomous driving permits in three largest cities in Asia: Shenzhen, Shanghai, and Guangzhou.
"In 2019, we have managed to build a large self-driving RoboTaxi fleet for testing and commercial pilot. The next challenge is to remove the safety driver and go truly driverless. Getting hardware ready is a crucial step towards this goal. We are very proud of ourselves to be able to achieve this and also very grateful for our partners' great support." AutoX CEO Dr. Xiao said.
A fleet of the AutoX Hardware Ready RoboTaxi is going to be in service to the public in early 2020. Passengers will be able to call a RoboTaxi using WeChat mini-program and other popular apps.