Inside AutoX's Driverless RoboTaxi Operations Center
The AutoX Team @ May 9, 2022
In Feburary, our fleet of 1000 RoboTaxis rolled off our dedicated production line. We had also built special "homes" for these robocars called RoboTaxi Operations Centers.
Globally, we have designed and built 10 RoboTaxi Operations Centers to significantly ramp up testing to advance our Gen5 autonomous driving technology, and support our RoboTaxi services for the public as we scale up our operations across various metropolitan areas around the world.
Our Driverless RoboTaxi Operations Center in Shenzhen
Out of the 10 RoboTaxi Operations Centers that we have built, the one located in the Pingshan District of Shenzhen especially stands out.
Take a tour inside our Pingshan RoboTaxi Operations Center from a flying drone:
Our RoboTaxi Operations Center in the Pingshan district is based on the eastern side of Shenzhen, where we operate fully driverless RoboTaxi services across the entire 168 square kilometers (65 square miles) of the district, all without any safety drivers inside the vehicle.
Every day, hundreds of AutoX Gen5 robotaxis are running in and out of this facility like clockwork. The entire Pingshan Operations Center is structured into six floors, totalling 195,881 square feet (18,198 square meters) of indoor space. The four lower floors are dedicated to charging, maintenance, parking, and data exchange for our robocars. The two upper floors serve as work spaces for our staff who operate and maintain these robocars.
The new Operations Center is now 10 times larger than our previous one in the Pingshan district. With this expansion, we've been growing rapidly and attracting much more local talent to join our test driving, quality assurance, technicians, fleet operations, and passenger service teams.
To optimize the efficiency of operating the fleet, our Operations Center is equipped with just the right amount of EV charging pole stations, high speed network portals, and maintenance garages to ensure maximum "up-time". Our fleet management team manages the fleet assigned for map updates, testing of new features, safety validation, and providing services to our passengers.
Our RoboTaxi Operations Centers Around the World
We have built 10 RoboTaxi Operations Centers in metropolitan cities around the globe, including Shenzhen, Shanghai, Beijing, Guangzhou, and the Bay Area in California.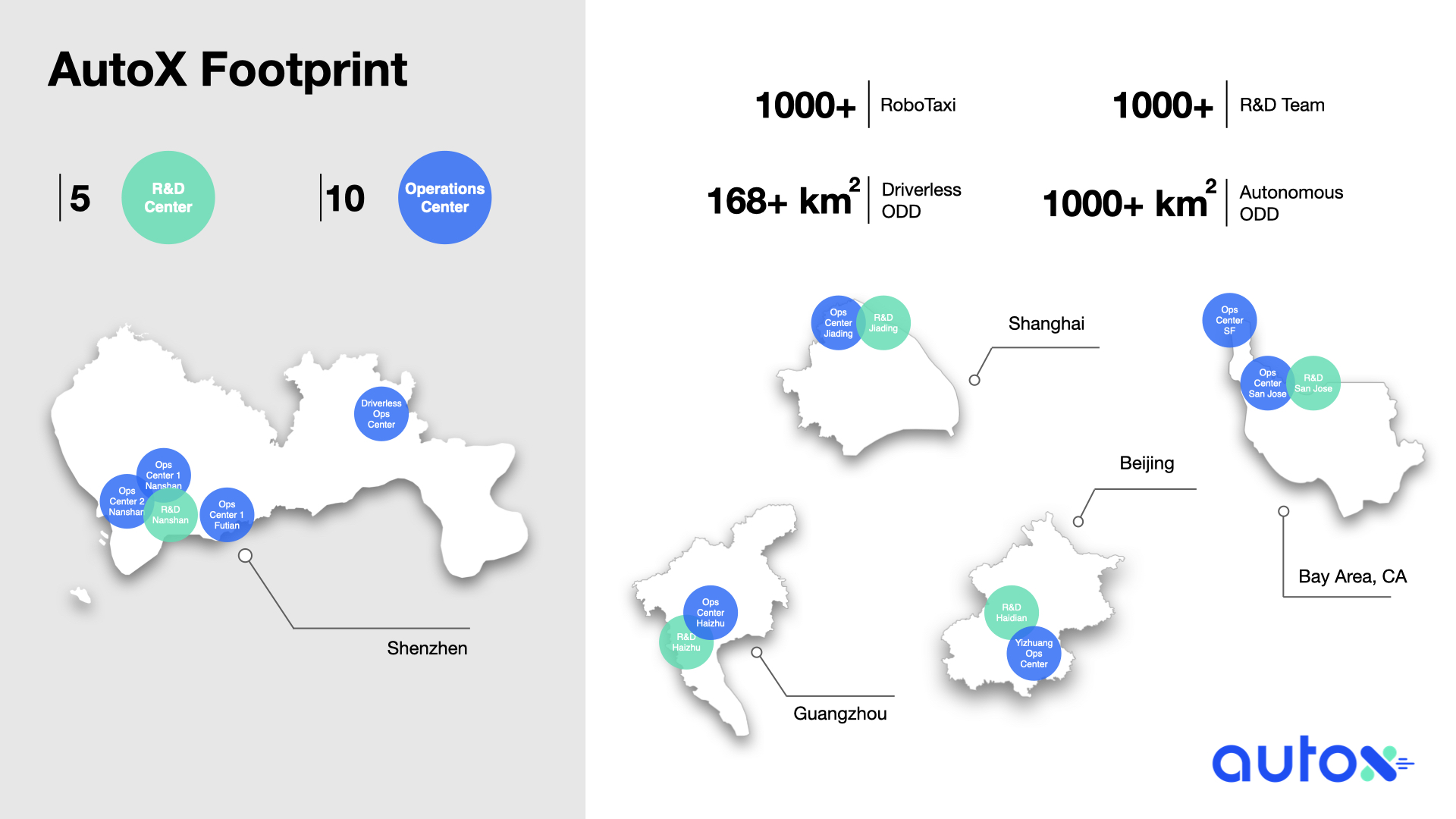 Shenzhen is the very first mega-city where our autonomous fleet covers the majority of an enormous metropolis, and can drive autonomously in a zone of over 1,000 square kilometers (386 square miles).
Out of our 10 Operations Centers, 4 are dedicated to the city of Shenzhen. The locations of these Operations Centers are carefully selected so that their service area spans from the Shenzhen International Airport, to the busiest commercial districts of Shenzhen (the Central Business District), all the way to residential districts of tens of millions of people.
Watch an AutoX RoboTaxi weave through over 1,000 square kilometers of area here, all in fully autonomous mode. In the video, the autonomous ride started without any safety driver inside the vehicle. When the robotaxi exits the driverless zone, as required by local policies, a safety driver gets into the driver seat of the robotaxi. Throughout the video, the robotaxi remains in fully autonomous mode.
Democratizing Autonomy, One City at a Time
At AutoX, we are 100% focused on and committed to our mission of democratizing autonomy — to accelerate the advent of fully driverless cars. Our network of 10 Operations Centers is moving us closer to the advent of massive fully driverless vehicles for tens of millions of people, building safer transportation and bettering lives, one city at a time. We can't wait to share more with you over the next few months. Stay tuned!