AutoX Launches Gen5 Fully Driverless System Production for RoboTaxis
The AutoX Gen5 system is the first with sufficiently powerful hardware specifications capable of supporting fully driverless RoboTaxi deployment on public roads in Asia's urban areas
The AutoX Team @ Jul 6, 2021
AutoX today officially kicked off the production of its latest Gen5 system for fully driverless RoboTaxis.
The AutoX Gen5 was launched at the Crowne Plaza Shanghai Anting today when AutoX founder and CEO, Dr. Jianxiong Xiao (a.k.a. Professor X), unveiled the technology behind the Gen5 system.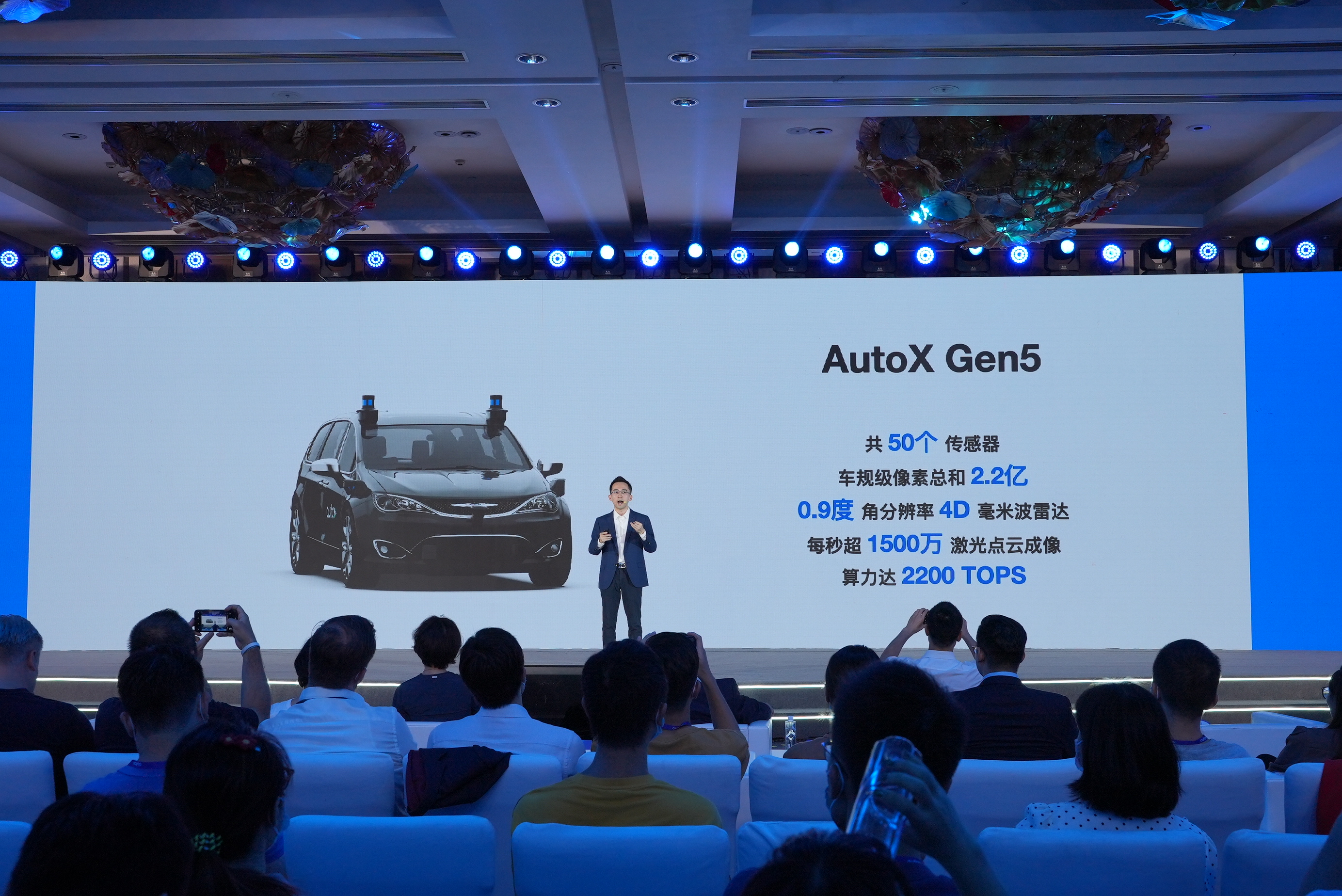 The Gen5 system has 50 sensors in total, as well as a vehicle control unit of 2200 TOPS computing power. There are 28 cameras capturing a total of 220 million pixels per second, six high resolution LiDAR offering 15 million points per second, and 4D RADAR with 0.9-degree resolution encompassing 360 degrees around the vehicle. Using camera and LiDAR fusion perception blind spot modules, the Gen5 system covers the entire RoboTaxi body with zero blind spots.
With its cutting-edge technology, Gen5 offers the world's best sensor resolution and computing capabilities for Level 4 autonomous driving systems. Gen5 enables AutoX RoboTaxis to drive safely on complex urban streets by detecting occluded delivery scooters behind vehicles from several hundreds of meters away. The system's higher resolution sensing capability also enables RoboTaxis to drive at higher speeds safely, extending the Operational Design Domain of AutoX's driverless RoboTaxi fleet.
The AutoX Gen5 system is built with Electrical/Electronic Architecture that satisfies global functional safety standards. The Gen5 production process is established with strict supplier management and quality control on a modular and vehicle level. Before going on the dedicated assembly line, components go through rigorous automotive grade testing. After integration with the Gen5 system, each RoboTaxi also undergoes automotive grade testing, including vibration testing, waterproof testing, extensive road testing, and more.
In January, AutoX launched the first fully driverless RoboTaxi service to offer rides to the general public without accompanying safety drivers. After six full months of operation with a perfect safety record, the company is moving forward with the production of its Gen5 system to expand its RoboTaxi fleet.
"Safety is our number one priority and it has to be built on a reliable foundation. Gen5 was created for fully driverless RoboTaxis in urban cities and is designed for the safety of our users and everyone on the road," said Dr. Xiao.